About Us

COVID-19 Compliance Policies/Procedures
COVID-19 Compliance Policies/Procedures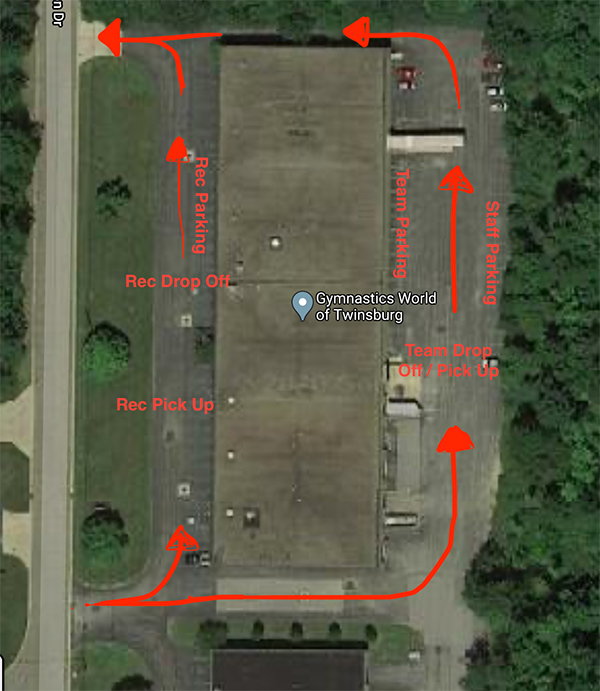 Please use the link below to access the document containing our updated COVID-19 Policies & Procedures for our Recreational Programs. The safety of our athletes, families and staff is our highest priority. If you have any questions, please let us know!
Recreational Class COVID-19 Policies & Procedures
Competitive Team COVID-19 Policies & Procedures
Keeping our "World" Safe!
- Our facility, including all gymnastics mats & apparatus, bathrooms, viewing and lobby areas has been treated with Microshield 360.
- All equipment and facilities get further disinfecting after each class using our PX200ES Electrostatic Sprayer with PURTABS.
- We also use a cleaning solution with Neutral-Q by NCL throughout the gym, bathrooms and lobby areas.
- Hand sanitization stations are conveniently located through the gym and Main lobby entrance.
- Signage is present throughout the gym with class entrances and exits, sanitization stations and safe distancing
Face Covering (Masks) – Anyone entering the facility must wear a facial covering at all times that covers the nose, mouth and chin, except for one of the following reasons:
1. Facial coverings are not advisable for documented legal, health, or safety reasons.
2. Facial coverings do not comply with Gymnastics World's safety policies.
3. The individual is a child under the age of 2.
Explanation for Rule #3: The County rule is 10 and under. The definition of the rule was issued after 8:00pm on the day the order took effect at 6:00pm in Cuyahoga County. So we made the decision of the information the state had thus far provided. The ODH says that you shouldn't put masks on children under 2 because it's not safe. We want everyone coming in and out to have a mask on (unless its unsafe bc they are 2). Once they are in the gym and doing physical activity they can talk off the mask though. This also eliminates the confusion of groups that will have some kids required but others not.
Customer & Employee Travel - Gymnastics World is asking its customers and employees to follow all CDC & ODH guidelines and recommendations.
Anyone with Symptoms - If anyone appears to have acute respiratory illness symptoms they are immediately isolated and sent home. They may not return until they are free of fever, without the use of medication, for 72 hours (three days) AND symptoms have improved for at least 72 hours AND at least seven days have passed since symptoms first began.
Identified COVID-19 Infections - Qualified full time staff may be asked to complete the needed cleaning responsibilities. We will immediately report employee or customer infections to the local health department. We will notify customers as needed to protect public health in consultation with the local health department.


Exposure to Positive Tests - In the event a customer or employee is exposed to a positive test outside of our facilities, pursuant to CDC and ODH guidelines, Gymnastics World is asking that they do not return until after 14 consecutive symptom-free days have passed since the date of last exposure.
All infectious events will be addressed on a case by case basis to determine more specific responses.